Click For More!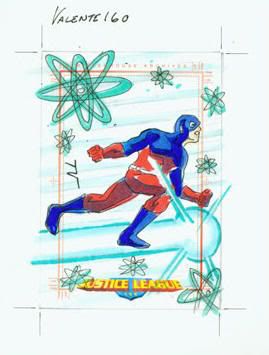 Tom Valente
is a commercial artist who has done work for places like
Cracked
, and who I've featured a number of times on my Martian Manhunter blog. God bless him, amidst a whole slew of JLA sketch chase cards, he threw in a Ray Palmer Atom piece. Being a Mighty Mite, the Atom is shown full figure with a background, where most everybody else were cropped in negative space. If you'd like to see for yourself, check out Valente's
sketch card post
, featuring every name Leaguer from the Silver Age.