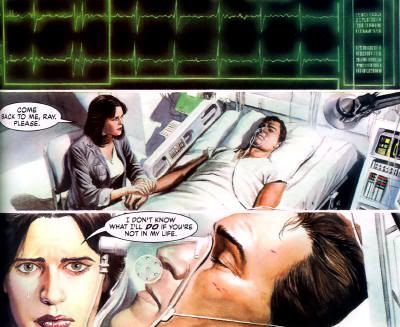 Comatose, Ray Palmer survived his wound and was transported to the hospital. While he lay unmoving in his bed, breathing through a respirator, Jean Loring watched over her him. "Come back to me, Ray. Please. I don't know what I'll do if you're not in my life. I love you so much. I know I said I didn't want you to be the Atom anymore. But if that's the only way I can have you, it's okay. I just want you back. Please." Tears streamed down her face as Jean held Ray's arm. She had uncovered his waist, revealing a size-altering belt underneath...
Midway City Museum burned, its faux-Egyptian pillars crumbled. From within a sheltering sarcophagus, Carter and Shiera Hall finally emerged. They could both hear J'Onn J'Onzz contacting them telepathically. "It was Toyman, J'Onn. Toyman did this. But why?"
"It wasn't just him, Hawkgirl. It was
all
of them."
"Get back in bed, Mr. Palmer. You've been shot. You have to rest." Ray argued with Jean, explaining that no member of the Justice League had answered his signal, and that he was likely not the only target of a potentially lethal attack. Jean rebutted that both the League and herself need him at his best.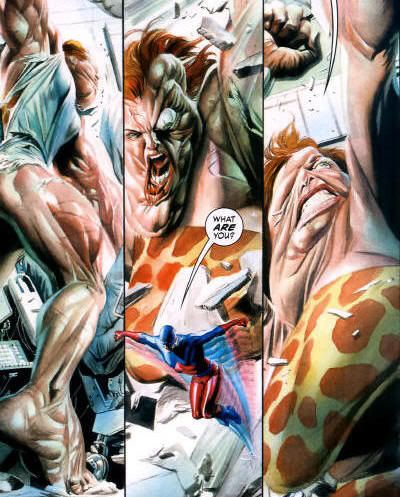 A statuesque red-headed nurse agreed with Ray's wife from the door of his hospital room. Loring left the hospital to get some sleep, explaining that she would swing by in the morning before work, because she's an icy bitch. This allowed the nurse the opportunity to give Ray another pillow, held tightly over his face. The nurse was pissed Ray wasn't dead by her bullet earlier, and really blew up when he reached for his size-altering belt. Literally, her body began to warp and expand like something out of
Akira
, smashing the hospital room in hopes of hitting the Atom.
The Mighty Mite didn't recognize Giganta as he dive-bombed her eye, sending the Wonder Woman villainess through a wall and down the side of the building. Giganta almost hit Jean along with her car as she landed hard on the street below, proving God's benevolence only extends so far. The Tiny Titan then hopped on his wife's shoulder. "I'm okay, honey. But I think I'm bleeding again."
Presumably, Jean muttered obscenities while calling her claims agent, as the Atom wondered if he was the last living Leaguer. Ray worried for the missing Green Lantern, Aquaman and the rest, considering this threat to friends and family "the high cost of doing the right thing." Ray managed to reach Wonder Woman in her invisible jet, who confirmed the Atom's suspicions, and directed him to meet at the team's secret rendezvous site...
Meanwhile, Carter and Shiera Hall changed into their Thanagarian gear to fly with the Martian Manhunter to Metropolis, where the Sleuth from Outer Space had tracked Toyman. Hawkman thanked J'Onn for his help, noting this would be his first visit to the city. Hawkgirl said the same.
"It better be."
"Ha. Don't worry Carter. Everyone knows you're
my
Superman."
The Manhunter from Mars left for other business, while the Hawks forced their way into a darkened warehouse. "Carter? ...Just in case. I love you." The pair was suddenly surrounded by a store's worth of demented killer toys. "Oh, yeah. I love you, too." Medieval weapons smashed modern distractions, until the Hawks uncovered a factory building Brainiacs by the dozen...
The Justice League Satellite exploded in space, leaving Captain Marvel and Superman unsure of Red Tornado's fate. As it turned out, Zatanna had previously used her magic to send the android to Doc Magnus for repairs, as the Metal Men looked on. Magnus managed to reactivate Red Tornado, who repeated "I found Aquaman."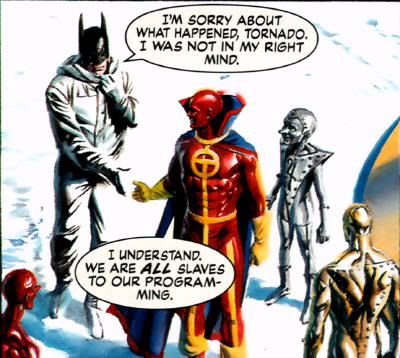 Doc Magnus, having rebuilt Red Tornado, contacted Wonder Woman in her invisible jet with the android's report. Batman had betrayed the League, causing Tornado's dismantling and the destruction of the Justice League satellite.
As Hawkman ruthlessly smashed Brainiac bodies, Hawkgirl agreed with the Martian Manhunter that a conspiracy was afoot. Katar dropped a bomb down a Brainiac's throat, then hauled his wife through an exit before it exploded. "Next time, tell me. It's not a plan I can be a part of if I don't know what you're doing." Dismissing his partner, Hawkman caught one of the many worms raining down with the debris.
Red Tornado was joined by the Metal Men at the rendezvous point outside Superman's fortress of solitude. Batman greeted him with an extended hand and an apology. "I understand. We are all slaves to our programming." The Atom was presumably present or en route...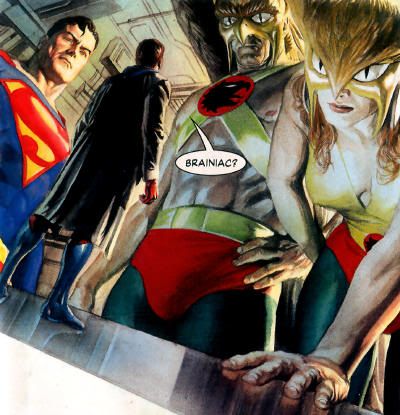 The Atom had been studying the artificial worms found by his present friends Hawkman and Hawkgirl at the Fortress of Solitude. When Superman reported the involvement of Brainiac, it cinched the deduction the little buggers were alien in design. Millions of the critters had been inside the Man of Steel, controlled in tandem by a single extant intelligence. "That mind would need to be amplified well beyond even the specifications on Brainiac in the League's files. These machines seem to have limited capabilities for independent operation as well. They really are genius in their simplicity.
Green Lantern Hal Jordan finally made his way to the Fortress of Solitude, as a relieved Atom standing on Captain Marvel's shoulder offered, "I can't believe it. We all survived."
Red Tornado was in a sort of monitor womb, and announced that everybody's supporting cast had been kidnapped, including Jean Loring and Reddy's gals Kathy and Traya...
"Justice, Vol. 2," collecting issues #5-8 of the 2005 mini-series, was plotted and painted by Alex Ross. The script was provided by Jim Krueger, and the penciled layouts by Doug Braithwaite.