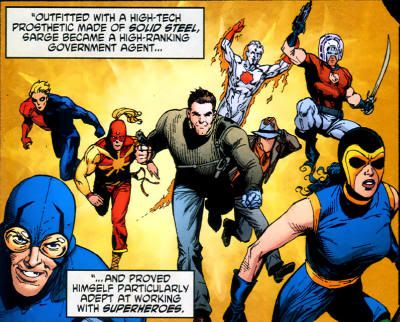 At the Department of Metahuman Affairs in Washington D.C., Sarge Steel assigned agents Diana Prince and Tom Tresser to target Wonder Woman for observation. This served as a narrative device to cover the histories of Sarge Steel, Wonder Woman, Wonder Girls Donna Troy & Cassandra Sandsmark, plus Tom "Nemesis" Tresser.
Sarge Steel didn't trust anyone. He was originally Special Forces assigned to Army Intelligence overseas, until a terrorist's grenade blew up in his hand. "Outfitted with a high-tech prosthetic made of solid steel, Sarge became a high ranking government agent… and proved himself particularly adept at working with superheroes." These included Blue Beetle, Captain Atom, Nightshade, Peacemaker, the Question, Judomaster, and a thinly disguised Peter Cannon, Thunderbolt. The Central Bureau of Intelligence and Task Force X were under his supervision before he was transferred to his current assignment, where his paranoia kept him in the field and his own agents under surveillance. Only his assistant Bess Forbes was exempted, "the only person on the planet he's afraid of."
Nightshade also had a cameo appearance in Nemesis' biography, as a member of the Suicide Squad (but still wearing her Charlton costume.) Also: dated Tom Tressor.
"Backstory" was by Allan Heinberg, Gary Frank and Jon Sibal.