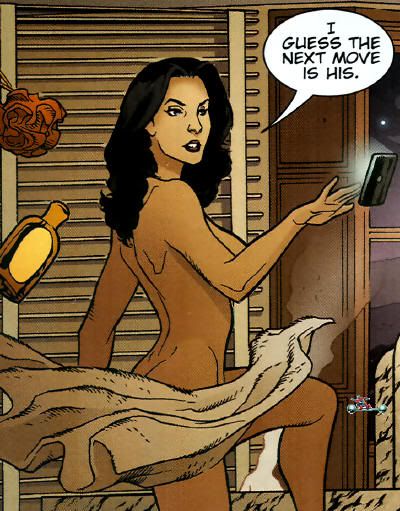 Ryan Choi fans, including writer/co-creator Gail Simone, have been taking his death hard.
The Irredeemable Shag
pointed out to me that many of them have sought solace through humor via a campaign to insert Choi into current comic book pages to prove that, in fact
Ryan Choi Lives!
. It even inspired me to do up one of my own featuring Zatanna, as seen above.
Honestly though? I was indifferent to the prospect of Ryan Choi's death, so I won't front. I didn't feel bad until I read the
Titans: Villains For Hire Special #1
, which impressed me as starring a pretty heroic dude with a rich back story. However, critical essays like
The Racial Politics of Regressive Storytelling
and
DC Comics vs Asian Americans
make a point of crapping on Ray Palmer to "prove" Ryan was the character most deserving of life. Chris Sims even went out of his way to find the smarmiest Ray picture he could find. I have to fight my old "fire troll" urge to become radicalized by all the hateration. I tend to prefer the guys who bring a more moderate view, like
Bill at Trusty Plinko Stick
. That discussion convinced me that Choi could have stopped being a younger, "hipper," more "cultured" model Ray Palmer and developed his own super-heroic identity. I'm reading more Choi stories now, and while I don't quite like the guy, I'm sorry to see the kid get axed before reaching his potential.